Welcome to my website...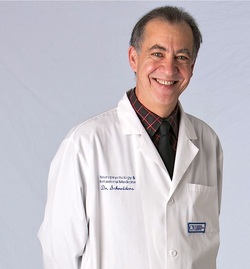 I am a board certified Clinical Neuropsychologist and Clinical Health Psychologist, who sees patients to evaluate and address cognitive, psychological and behavioral issues caused by a variety of conditions:


- Complex memory/medical disorders & dementias

- Parkinson's disease and atypical Parkinson's disorders
(including Deep Brain Stimulation pre-surgical evaluations)
Progressive Supranuclear Palsy, Multiple Systems Atrophy, etc.
Huntington's disease

- Epilepsy and other seizure disorders
(including pre-preoperative epilepsy surgical evaluations)

- Brain Tumors

- Frontotemporal Diseases (Primary progressive aphasia, corticobasal ganglionic
degeneration, semantic dementia, etc.)

- Stroke and other cerebrovascular accidents (brain bleeds)

- Multiple sclerosis

- Metabolic and other encephalopathies (e.g., hepatic encephalopathy, anoxia, viral
meningitis or encephalitis, post-operative or post-chemotherapy cognitive changes, etc.)


DEEP BRAIN STIMULATION SURGERY PRE-OPERATIVE EVALUATIONS

Dr. Schneiders' practice includes evaluating patients in the process of considering Deep Brain Stimulation neurosurgical intervention (DBS) for conditions such as Parkinson's disease, Essential Tremor, and intractable Dystonia.

Since the mid-1990s, Dr. Schneiders has worked very closely with movement disorders specialist Dr. Rajeev Kumar, evaluating DBS patients at the Colorado Neurological Institute's Functional Neurosurgery Program and more recently at the Rocky Mountain Movement Disorders Center, both directed by Dr. Kumar. This team also includes neurosurgeons Drs. John McVicker and Adam Hebb, physiatrist Dr. Karen Theriot, and movement disorders nurse practitioner, Vickie Segro, RN, MSN.

Dr. Schneiders and Dr. Kumar collaborate closely on other complex movement disorder cases as well, and the close proximity of their offices makes coordination of visits much easier for out-of-town and for limited mobility patients.

Dr. Schneiders also is a member of the campus-wide group of clinicians that evaluates DBS patients at Swedish Medical Center for that hospital's DBS program.




EPILEPSY SURGERY PRE-OPERATIVE EVALUATIONS

Beginning in 1990, Dr. Schneiders has evaluated patients at the Colorado Neurological Institute's Epilepsy Center who require pre-operative examinations to help determine operative safety, risk/benefit estimation, and neurosurgical/neuropsychological needs as well as their appropriateness for seizure surgery.


Epileptologists at the CNI Epilepsy Center include Charles Livsey, MD PhD, and Kirsten A. Bracht, MD.


Dr. Schneiders also regularly consults with other neurologist-epileptologists, including Richard Clemmons, MD,
Danielle McDermott, MS MD, Kimberly Horiuchi, MD, and Kathryn Polovitz, MD, on patients with seizure disorders .


PRACTICE LIMITATIONS

My practice does not involve work with patients who have cognitive or other changes that have resulted directly from a traumatic brain injury, patients under the age of 18 years of age, patients with psychiatric emergencies (i.e., acutely suicidal or psychotic persons), general psychotherapy patients, or persons who wish basic learning disability evaluations for school or education purposes only.


Please note that the scope of my practice has recently changed:


To accommodate the large number of subspecialty referrals I receive within a reasonable time frame, I have recently had to restrict the types of patients I see to those with firmly documented neurological and/or medical illnesses and disorders.


However, I work closely in my practice with several superbly trained and expert neuropsychologist associates who are often able to see more general neuropsychological cases in the areas specified above, when I cannot. Our office will be pleased to see if we can help you find the best doctor best able to help you with your particular problem or issue, if your particular clinical concerns do not fall under my subspecialty areas of care.


Please note that I practice neuropsychology, not neurology, medicine, general clinical psychology, or psychiatry.

Please know that I have an entirely patient-focused, care-centered practice, and therefore do not perform legal or forensic examinations for attorneys, insurance company IME's, etc.





---